Robocalls and spam calls are a nightmare, and when your business numbers are out there on your website for all the world to see, you can expect plenty of these time-wasting, frustrating, and potentially dangerous calls every month! While Australia has an anti-spam law, there are a few more things we can all do to minimise and block these calls.
The problem with spam calls
Spam phone calls are more than an annoyance. While many of them do come from telemarketers, there are also a lot of calls that come from far more malicious actors. Like phishing emails, they often impersonate a bank or familiar institution and ask for your personal and financial information, which can then be used to commit identify fraud or to defraud your accounts. They can also take the form of calls that offer you a prize or special reward, they may pretend that there has been a data breach on your account, or even ask for your participation in a survey.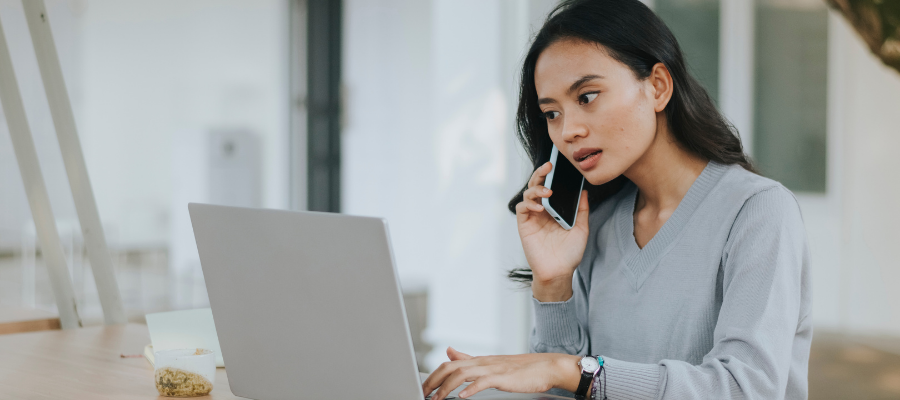 The most important thing to do is NEVER give out any of your personal or financial information on the phone. Your bank or insurance company will never ask for this and, if you are concerned it may be a legitimate call, you can always hang up and call the institution directly on the number listed on their website.
Of course, the best way to protect yourself and others is to make sure these calls never reach you in the first place! Here's what to do.
#1 –Add your number to the Do Not Call Registry
This is a fast, free, and confidential way to eliminate quite a few spam calls. All you need to do is visit donotcall.gov.au or call 1300 792 958 to add your number to the register. It will take 30 days to take effect and you'll be on the register permanently.
However, there are some exemptions to this registry. You can still be contacted by registered charities, educational organisations, government bodies, opinion pollsters, and social researchers. They do have to comply with the Telecommunications (Telemarketing and Research Calls) Industry Standard, which stipulates what information they can ask from you, when they can call you, the information they must give you when the call starts, and other requirements.
#2 – Ask to be removed from their call list
If you receive a call after your registration has taken effect, the organisations that are still able to call you are bound by certain regulations. Hanging up on them or shouting at them will probably keep you on the list, but if you ask them firmly to remove you from the call list, they should comply.
Some professional fundraising companies represent plenty of different charities and manage telemarketing on their behalf. If they are a FIA member, simply ask them to remove your number from all their campaigns. They are obliged to honour that request and if they don't, you can report them.
#3 – Block numbers and use filtering apps
Of course, the advice above doesn't work with automated or robo calls. Here, you need to take a direct route by blocking the number on your phone. However, this only works to a certain point, as they can just use a different number to call you. That's why we recommend using an app like Truecaller, RoboKiller, or Nomorobo that identifies robo calls, notifies you, and allows you to submit real-tme spam reporting, auto-block spam calls and text messages, and effectively identify who it really is that's calling you.
Secure your team with Otto's managed IT services
Otto IT is a people-first managed IT solutions and SaaS outsourcing provider in Melbourne. Our talented team will deliver the solutions and expertise needed for you to work better and more securely, get your organisation's message out there, and push peak performance. Chat to our team today about outsourced, secure tech solutions that really work.