How To Lodge A Ticket With Otto
IT can let you down – but Otto IT support won't! Whether your website has gone down, your computer has crashes, or your systems are slow, we can help you out. All you need to do is lodge a ticket, and our team will get to work. In today's blog post, we'll be chatting about how you can lodge a ticket with Otto IT, making sure that your team can reach out for the support they need, when they need it.
How Can I Lodge a Ticket?
To make our IT support team as available as possible, we have 3 different ways you can lodge a ticket:
By using our Support Panel application which you can find on your desktop
By sending an email to support@ottoit.com.au
By giving our Support Team a call on 1300 OTTO IT (1300 688 648)
How to Lodge a Ticket on our Support Panel Application
Apps are new, more convenient, and more efficient way of lodging a ticket, which is why we've developed our IT Support Panel. This will have been installed on your PC/Laptop.
One great benefit of lodging ticket through the IT Support Panel is that we will have the workstation ID straight away because it's linked to your device. This is a great help for our team if we need to access the workstation remotely. You can also view tickets already submitted and even lodge things like New User Requests through this app.
The steps below outline the exact method of lodging a ticket via the Panel:
How to Find the IT Support Panel Application
Start by checking your desktop. You should have an icon in the shape of a green square with the letters "IT" in the middle. I've included a screenshot below to show you what the icon looks like:

If you can't find the application on your desktop, open your start bar, and type in "IT Support" and you should see a result for the panel. An example of the search result is shown below for you:

Now you have located the application, just double click to open it.
Lodging your ticket
Once the IT Support Panel is open, you'll see a menu like the one shown below: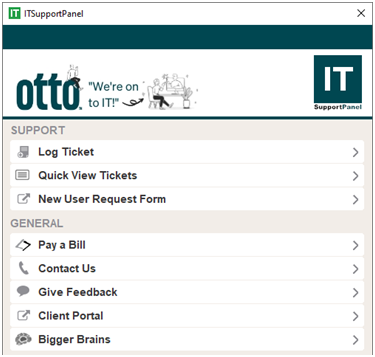 Click on the top option titled "Log Ticket" to then log your ticket. A new window should open where you can provide details of the issue you're experiencing, as shown below: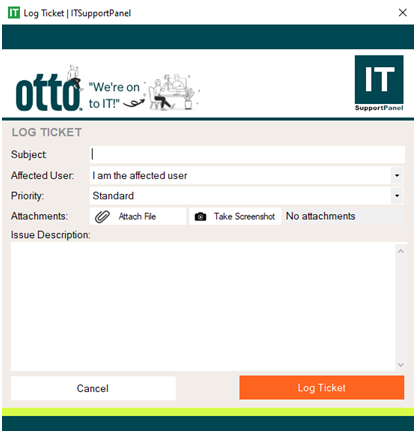 Explain the Issue
Explain the issue in the body of your message. Please try to provide as much detail as possible, as this will help our team diagnose the problem and fix it as quickly as possible. Here are some of the most important details to think about including where appropriate:
What happened and in what order?
Did you try restarting?
What software or hardware were you using?
Are there any error messages?
Is it preventing you from doing work?
Is anyone else experiencing the problem?
Any additional details we might need to know e.g. "I'm only in the office on Tuesdays"
To help you along, we've provided an example of an email to be sent to our Support Team:
Hi Otto Support,
I haven't been able to get my MacBook Pro to connect to my monitor. I tried swapping the power and video cables, as well as connecting to a different monitor but I couldn't get it working.
Can someone please assist me by looking into this issue?
Many thanks,
YOUR NAME
Once you've finished describing your issue, just click the orange "Log Ticket" button. You'll receive an email from us to notify you that we have received your ticket.
How to Lodge a Ticket via Email
This is the method that most people are familiar with – you send us an email and we take care of the rest. And once your ticket is lodged, we'll send you regular updates on how we're progressing. Here's how to email our Support Team:
Draft your email
Open a new blank draft email and enter the recipient address as: support@ottoit.com.au
Explain the Issue
As with logging your ticket via IT Support panel, please give us as much information as possible about your issue. You can find the relevant information in the bullet points listed earlier in this guide.
Sending Your Email
Once you have finished drafting your email, it's time for a quick review of the content to ensure no details/information were left out. Once you're happy, hit send and you should receive a reply to notify you that we have received your ticket.
How to Lodge a Ticket Over the Phone
Sometimes only a phone call will do! Our tagline here at Otto is Humanising Technology, and that means there's always a human ready and available to assist you with any IT issue. Just call our mainline on 1300 688 648 (1300 OTTO IT) to get through to our Support Team. It's just that simple. No automated call menus with a multitude of options to select – when you call Otto, you speak directly to our team – not a robot.
How do I schedule a call instead?
If you have a busy schedule and would like to time your call with Otto to when it suits you best, you can schedule a call with one of our engineers. Just make sure that you have first lodged a ticket with Otto and received the email confirming our receipt of your ticket.
Booking your call
Open the email you have received from the Otto Helpdesk notifying you that we received your ticket. Once located, click on the red button entitled "Schedule a Call!" (Screenshot below):
Please note: If you see the below error when you click "Schedule a Call!" it means your ticket is still in what we call Triage (the stage before the ticket has been booked in with one of our support team). Please wait 10-12mins before trying again.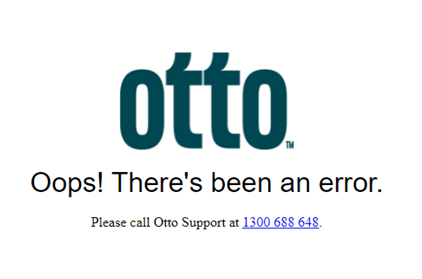 Now you should see an option to select a preferred time and date in line with our availability, as shown below: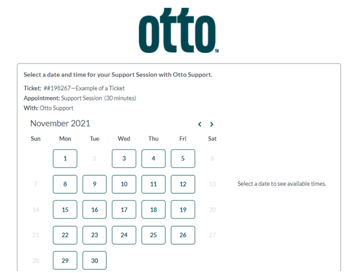 Select your preferred time and date and then confirm your call booking. You will then be shown a confirmation message containing the details of your call appointment: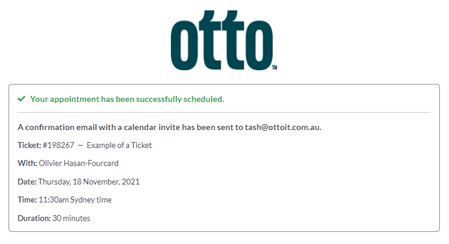 And that's it! Just sit back, relax, and wait for our Support Team to reach out to you.
A Quick Recap
So, those are the three easy ways to log a ticket with Otto:
You can lodge a ticket from IT Support Panel on your desktop or task bar
You can simply email support@ottoit.com.au with details of your IT Issue
You can call us on 1300 688 648 (1300 OTTO IT)
Thank you for taking the time to read through this guide and be sure to share it with your team so everyone can get the support they need from the team at Otto! And remember, no IT issue is too big or too small for our team to handle.