How To Lodge A Ticket With Otto
IT can let you down – but Otto IT support won't! Whether your website has gone down, your computer has crashes, or your systems are slow, we can help you out. All you need to do is lodge a ticket, and our team will get to work. In today's blog post, we'll be chatting about how you can lodge a ticket with Otto IT, making sure that your team can reach out for the support they need, when they need it.
How Can I Lodge a Ticket?
To make our IT support team as available as possible, we have 3 different ways you can lodge a ticket:
By using our Otto Customer Portal application which you can find on your desktop
By sending an email to support@ottoit.com.au
By giving our Support Team a call on 1300 OTTO IT (1300 688 648)
How to Lodge a Ticket on the Otto Customer Portal
Apps are new, more convenient, and more efficient way of lodging a ticket, which is why we've developed our Customer Portal. This will have been installed on your PC/Laptop.
One great benefit of lodging ticket through the Customer Portal is that we will have the workstation ID straight away because it's linked to your device. This is a great help for our team if we need to access the workstation remotely. You can also view tickets already submitted and even lodge things like New User Requests through this app.
The steps below outline the exact method of lodging a ticket via the Panel:
1. Access the portal
To get started using the Otto Customer Portal, locate this icon on your desktop:
Or navigate to https://portal.ottoit.com.au/
2. Log in
After initially opening the web page or application, enter your work email address and choose 'Sign in with Microsoft' when prompted.
3. Submit a ticket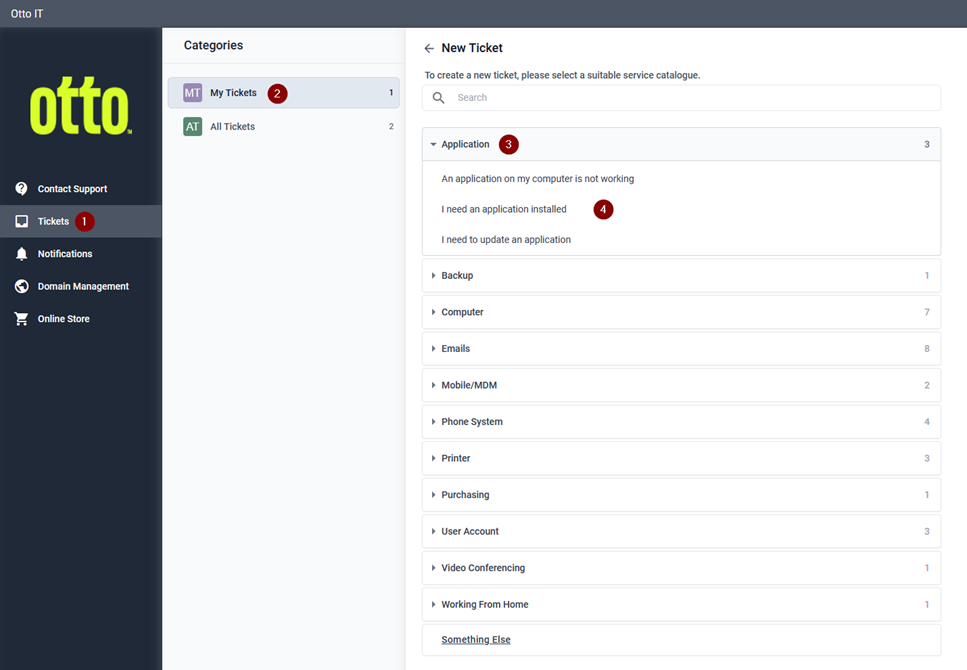 Select 'Tickets' from the left-hand side.
Select 'My Tickets'.
Choose an issue/request category depending on the kind of ticket you're submitting.
Choose the most appropriate form for your ticket.
If none of the forms match your issue/request, choose Something Else
4. View a ticket

Select 'Tickets' from the left-hand side.
Select 'My Tickets'.
Review the list of tickets. Any ticket can be selected if you want more information.
4. Update a ticket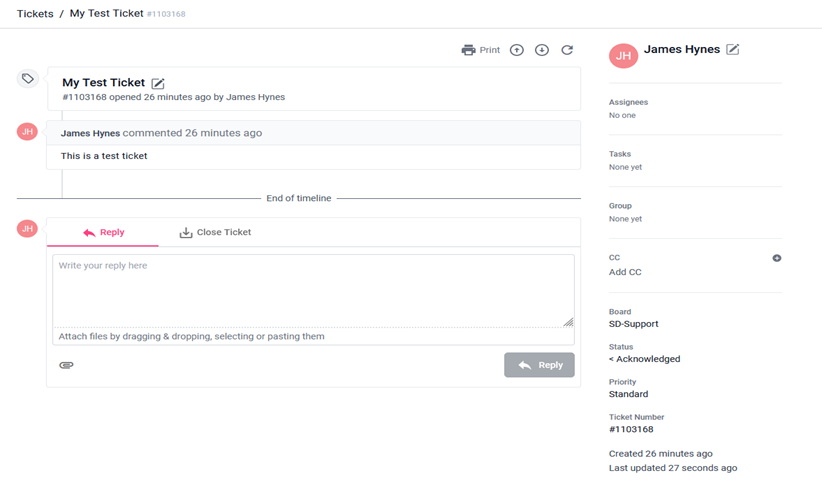 The view of a ticket shows previous tickets notes, the ticket number and the engineer assigned to your ticket, among other things. You can add your own reply to the ticket to add more information or request an update. Additionally, if your issue has been resolved on its own, you can choose Close Ticket and write a quick message explaining why the ticket is no longer required.
How to Lodge a Ticket via Email
This is the method that most people are familiar with – you send us an email and we take care of the rest. And once your ticket is lodged, we'll send you regular updates on how we're progressing. Here's how to email our Support Team:
Draft your email
Open a new blank draft email and enter the recipient address as: support@ottoit.com.au
Explain the issue
As with logging your ticket via IT Support panel, please give us as much information as possible about your issue. You can find the relevant information in the bullet points listed earlier in this guide.
Send your email
Once you have finished drafting your email, it's time for a quick review of the content to ensure no details/information were left out. Once you're happy, hit send and you should receive a reply to notify you that we have received your ticket.
How to Lodge a Ticket Over the Phone
Sometimes only a phone call will do! Our tagline here at Otto is Humanising Technology, and that means there's always a human ready and available to assist you with any IT issue. Just call our mainline on 1300 688 648 (1300 OTTO IT) to get through to our Support Team. It's just that simple. No automated call menus with a multitude of options to select – when you call Otto, you speak directly to our team – not a robot.
Select your preferred time and date and then confirm your call booking. You will then be shown a confirmation message containing the details of your call appointment:
A Quick Recap
So, those are the three easy ways to log a ticket with Otto:
You can lodge a ticket from Customer Portal on your desktop or task bar
You can simply email support@ottoit.com.au with details of your IT Issue
You can call us on 1300 688 648 (1300 OTTO IT)
Thank you for taking the time to read through this guide and be sure to share it with your team so everyone can get the support they need from the team at Otto! And remember, no IT issue is too big or too small for our team to handle.