Remote working is here to stay in one form or another, whether businesses are happy to reap the rewards of recruiting talent from a country-wide or global talent pool, the benefits of cost-savings, or simply want to give teams flexibility as a productivity perk. But this new way of working comes with its own challenges, particularly when it comes to achieving the age-old goal of a work-life balance. Here are some tips to help make this happen.
#1 – Keep that commute mindset
That long commute to work is no more, but that doesn't mean you should be waking up 5 minutes before your first meeting. While most of us don't remember the work commute as something fun, it did help to put you in the mindset for a day at the office. You can get the benefits of this by acting like the commute still exists and creating a structure that gets you into that productivity mindset. Set your alarm clock, do a morning exercise routine, shower and dress, or walk the dog before you settle down for the day.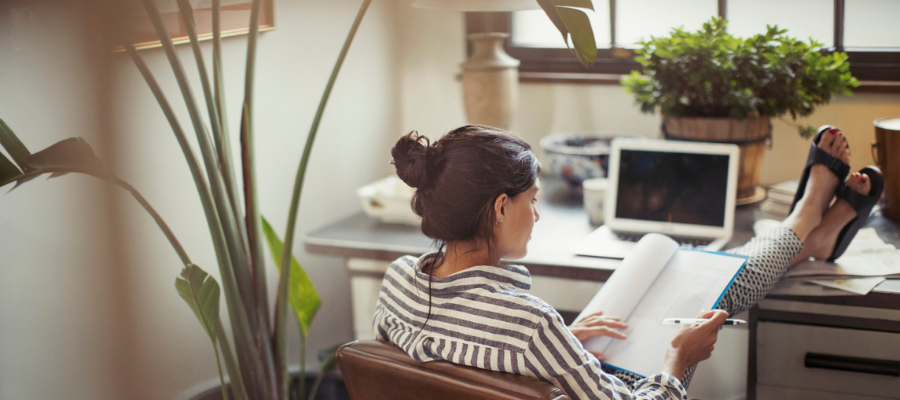 #2 – Set your working hours
To be fair, this is something that employers, as well as employees, need to work on. Just because you can work all hours of the day or night doesn't mean you should. In fact, this lack of boundaries is one of the most common complaints about remote working. So, sit down with your manager and team and talk about work hour expectations. Make sure to talk about your focus hours (some people really are morning people), when you need to clock off each day, and what expectations are in place regarding late-night emails.
#3 – Make out of office plans
To help make your work from home structure stick, you'll need to be disciplined. After all, you might think that you may as well answer that 10 pm email since you're at home chilling out. But having set time off work is essential for health, wellbeing, and productivity. So, to help you stick to good work habits, start scheduling out of office plans. Go to a yoga class that starts at 6 pm, make dinner plans with friends, join a creative class on weeknights, or go to your kid's sports games. Even walking your dog each evening at a particular time is a great way to make your time off a healthy commitment.
#4 – Know the signs of burnout
With everything that is going on in our lives and in the world, it's no surprise that burnout is common. We're taught to glamorise the grind, to go the extra mile, and to support our teams – and while all those things are important, you can't achieve them unless you're looking after yourself. Look for signs that you are burning out and act to modify your routine. These signs can include demotivation and disengagement, difficulty concentrating, fatigue, stomach and head pain, lack of satisfaction, and moodiness. If you're experiencing these issues, talk to your manager, organise some time off if you can, start practising relaxation exercises, get physical exercise, and speak to your doctor if you need extra help.
Support your remote teams through the right technology
The world of hybrid or remote work is not without its challenges – and opportunities. At Otto IT, we're here to make transitioning to a hybrid work environment easier, less disruptive, and more rewarding than ever before. Talk to our team in Melbourne about how to make technology work for your business – and bring more opportunities to your door.