Warehousing is Getting Smarter to Take on the Challenges of 2022!
To outsiders, warehousing seems like a pretty hands-on, low tech sector but the reality is quite different. In fact, the Internet of Things – a network of connected, shared devices, sensors, and technologies – is set to make warehouses some of the most high-tech spaces in the world.
Smart warehouses using cloud-based IoT technology have so much to offer in this vital and fast-growing sector, taking on challenges such as the demand for cheaper, faster delivery, greater supply chain visibility and product traceability, shortages in warehouse workforces, and reducing item damage and spoilage. Here's how.
Top application of the IoT in warehouses
#1 – Drones
Warehouses can be vast, complex spaces, and moving through them is no easy or low-risk task – for humans. To solve this, drones can be deployed to source and scan items, log item locations and monitor them in real-time, quickly and with no need to cross the warehouse floor or climb ladders, thereby lowering workplace safety risks and increasing productivity.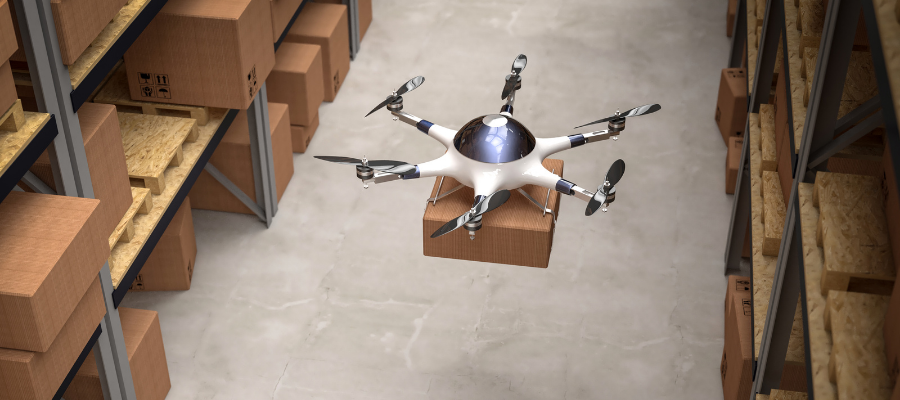 #3 – Blockchain inventory tracking
Blockchain, the technology behind cryptocurrency, has some exciting applications for supply chain and inventory management that streamline, simplify, and secure processes. In these applications, it works to provide managers with instant, real-time item tracking both for individual items in warehouses as well as feedback on demand for items, allowing warehouses to be proactively managed.
#4 – Automated vehicles
Autonomous vehicles aren't just for the roads! In fact, it is far more likely that these driverless vehicles will be deployed in warehouses and similar environments all around the world before they become a regular sight on our neighbourhood streets. Not only do they free up your workforce, but they are also able to determine the fastest route to any aisle and restock inventory independently from human supervision. This solution is already active in Amazon warehouses!
#5 – All-in-one warehouse management systems
Warehouse management systems allow managers to use a single device, such as a smart tablet, to track and manage every aspect of inventory management and fulfilment. Every item has a unique identifier throughout the supply chain system, allowing for exceptional traceability right to the customer's doorstep. By forecasting demand and supply, managers can arrange stock to meet anticipated demand more quickly. It's easily scalable, adaptable for all warehouse applications, and includes tools for everything from managing worker efficiency to completing taxes.
At Otto, we are committed to always doing better, using the best-in-case technology, and always innovating in how we can help our clients use IT to get a competitive edge. If you want to upgrade your warehouses to take on the challenges of a digitised economy, chat to our managed IT solutions team today to find out more about how we can transform your spaces into efficient, productive smart warehouses.